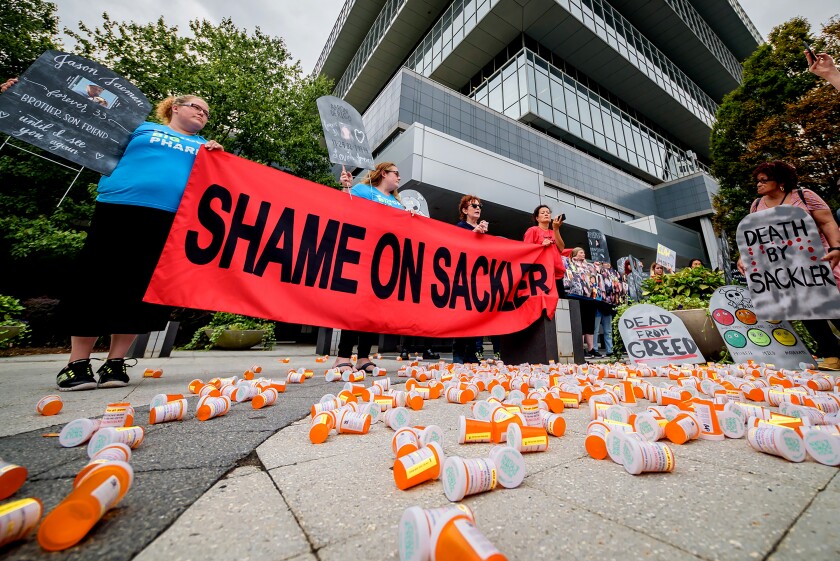 In the normal course of events, an $8 billion penalty and a guilty plea would represent a landmark event in the history of corporate crime enforcement. The newly announced resolution of charges against Purdue Pharma is, however, a disappointment and a missed opportunity to mete out appropriate punishment to one of the most egregious rogue companies this country has ever seen.
Let's start with the monetary penalty. The $8 billion amount ranks 11th among all the fines and settlements collected in Violation Tracker. It is surpassed by penalties paid by companies such as BP, Volkswagen, Bank of America and JPMorgan Chase.
As bad as the environmental and financial conduct of those corporations may have been, it is likely that Purdue Pharma has caused much greater harm. It bears a significant amount of responsibility for the hundreds of thousands of people who have died from overdoses after becoming addicted to opioids the company recklessly promoted.
There is also the issue of the economic costs to society. The Society of Actuaries has estimated those costs to be as high as $214 billion a year. Looked at in comparison to the human and economic costs, the $8 billion penalty seems woefully inadequate—all the more so because it is unclear how much of that amount the bankrupt company will actually pay.
It is good that the Justice Department extracted a guilty plea from Purdue rather than its frequent practice of allowing large companies to sign deferred prosecution or non-prosecution agreements. Yet this is a case which called out for individual as well as corporate criminal charges. DOJ got the Sackler Family, which controls Purdue, to pay out $225 million—yet that is a pittance in relation to the billions the family has taken from the company.
One unusual feature of the case resolution is the provision that will require Purdue to emerge from bankruptcy as a benefit company supposedly dedicated to serving the public rather than maximizing profits. It remains to be seen how that would work, but it is already troubling that the creation of the trust would allow Purdue to reduce its criminal penalty substantially.
The good news is that the DOJ settlement is not the end of the story. The statement that the Sackler family has not been released from potential federal criminal liability is not expected to mean much, especially under a Trump Administration.
The possibility of more aggressive action can be found at the state level. Numerous state attorneys general have sharply criticized the deal and have vowed to pursue their own cases. "I am not done with Purdue and the Sacklers," warned Massachusetts AG Maura Healey.
Let's hope that state prosecutors do their job, because their federal counterparts have failed to adequately crack down on the worst corporate violators and the individuals behind them.