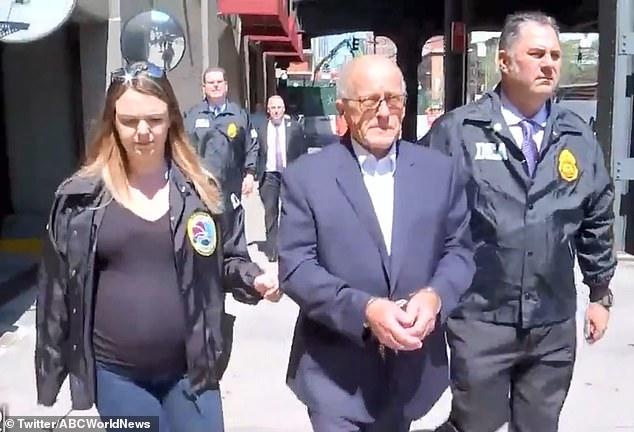 It looked like another of the countless perp walks in which a newly arrested drug dealing suspect is paraded before the cameras by prosecutors. But this time the individual in handcuffs was a 75-year-old former chief executive of a major corporate pharmaceutical distributor.
The U.S. Attorney for the Southern District of New York charged Laurence F. Doud III with one count of conspiracy to distribute controlled substances – opioids – which carries a maximum sentence of life in prison and a mandatory minimum sentence of 10 years, and one count of conspiracy to defraud the United States, which carries a maximum prison term of five years.
It is rare enough for corporate executives (or in this case, a retired executive) to be individually prosecuted for anything in the United States. It was even more amazing in this case to see such a person facing the kind of charges normally brought against figures such as El Chapo.
U.S. Attorney Geoffrey Berman made it clear he was sending a message with the prosecution of Doud, who until 2017 ran the Rochester Drug Cooperative (RDC), which is among the top ten pharmaceutical distributors. Berman vowed that in combating the opioid epidemic his office would target not only street-level dealers but also "the executives who illegally distribute drugs from their boardrooms."
In addition to Doud, Berman brought charges against William Pietruszewski, the company's former chief compliance officer. Pietruszewski pled guilty to the charges and is said to be cooperating with prosecutors. Doud's lawyer maintained his client's innocence and claims Doud is being scapegoated by others at the company.
RDC itself was also targeted in the case, but the company was offered a non-prosecution agreement in exchange for a $20 million fine and an admission that it intentionally violated the federal narcotics laws by distributing dangerous, highly addictive opioids to pharmacy customers that it knew were being sold and used illicitly.
RDC's deal is just the latest in a series of drug cases brought against companies. Violation Tracker lists about 90 instances in which corporations have been penalized under the Controlled Substances Act, but only six of these were criminal cases.
SDNY has opened an important new front in the battle against corporate involvement in the opioid crisis, complementing the wave of class action lawsuits brought against the likes of Purdue Pharma.
But for the offensive to be truly effective, it needs to target not just former executives like Doud but also those still in their posts. And it needs to go higher up the ladder from the likes of RDC to executives at the big three distributors: AmerisourceBergen Corporation, Cardinal Health, Inc., and McKesson Corporation.
These companies together generate more than half a trillion dollars in annual revenue and control more than 90 percent of the U.S. pharmaceutical wholesale market.
The opioid epidemic is the outcome of one of the most egregious cases of corporate irresponsibility in U.S. history. Both the companies themselves and those who ran them need to prosecuted to the full extent of the law.