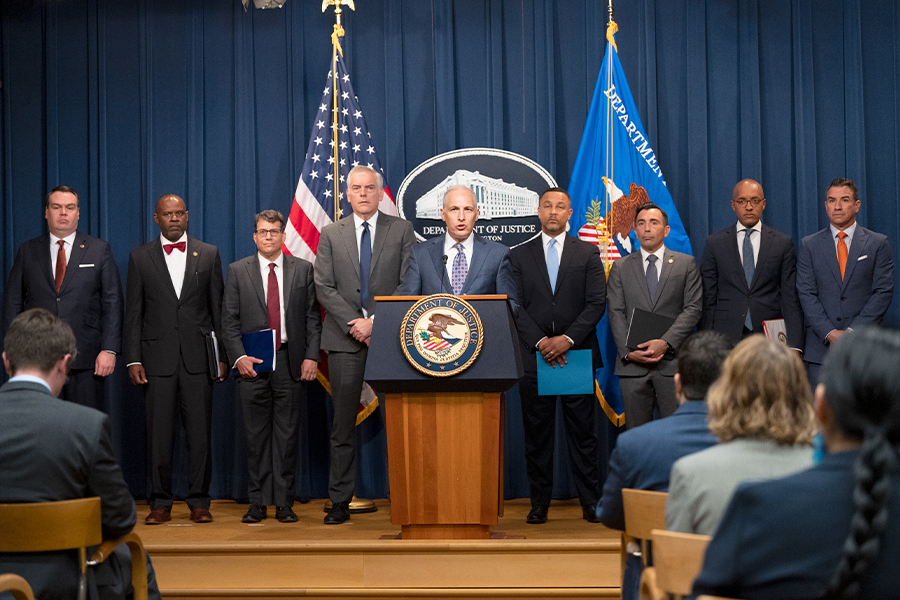 Most of the cases handled by the Justice Department's National Security Division involve individuals accused of providing support to foreign terrorist organizations, or more recently, domestic far-right extremists linked to groups such as the Proud Boys.
Yet the division has another mission: prosecuting corporations which violate international economic sanctions or which fail to prevent sensitive technology from being transferred to unfriendly foreign countries. It is beefing up this work, especially the latter part.
The division just appointed its first Chief Counsel for Corporate Enforcement and Deputy Counsel for Corporate Enforcement. In making the announcement, Assistant Attorney General Matthew Olsen suggested that a tougher stance is being taken: "We have watched with concern as investigations of corporate misconduct increasingly reveal violations of laws that protect the United States. Enforcing the laws that deny our adversaries the benefits of America's innovation economy and protect technologies that will define the future is core to the National Security Division's mission." Olsen is in effect saying that some corporations are national security risks—or perhaps more accurately, national economic security risks.
These appointments are consistent with the announcement earlier this year that the National Security Division was joining with the Commerce Department's Bureau of Industry and Security (BIS) and other agencies to form the Disruptive Technology Task Force. Its mission is "to target illicit actors, strengthen supply chains and protect critical technological assets from being acquired or used by nation-state adversaries."
Until now, the division's corporate prosecutions have been limited. In Violation Tracker we document 17 cases that have been brought against companies over the past decade. Most of these are foreign-based companies. For example, in in 2017 a penalty of $430 million was imposed on the Chinese telecommunications company ZTE for illegally shipping U.S.-origin technology items to Iran.
BIS, which brings civil rather than criminal actions, has a much bigger caseload. Violation Tracker documents over 600 export control cases brought by the agency since 2000. It has also gone after foreign companies such as ZTE but its case list includes numerous domestic companies, including Boeing, General Electric and Northrop Grumman. Earlier this year, it penalized Seagate Technology LLC $300 million for illegal sales of computer disk drives to China's Huawei Technologies. (Seagate's parent is technically incorporated in Ireland for tax reasons, but its operational headquarters are in California and it is effectively an American company.)
A focus on domestic companies is also seen in the caseload of another federal export control agency: the State Department Directorate of Defense Trade Controls. Violation Tracker shows there have been around four dozen cases brought against companies by DDTC since 2000, nearly all of them U.S.-based. RTX Corporation (formerly Raytheon Technologies) and its subsidiaries account for the largest share of the penalties.
Given the willingness of U.S.-based transnationals to share technology with customers in countries such as China over the past few decades, the DOJ's new focus on economic security may be too late to undo much of the damage. Yet if prosecutors are going to address the problem nonetheless, they should follow the lead of other agencies and go after domestic as well as foreign culprits.