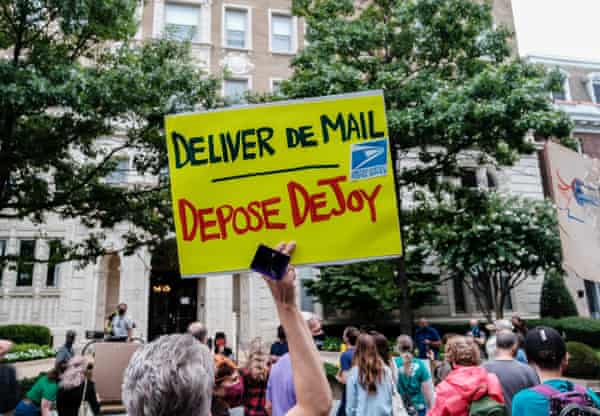 Donald Trump got elected in part by selling the idea that his business experience would enable him to do a great job of running the government. We see how that turned out. And now we have another veteran of the private sector wreaking havoc on the United States Postal Service.
Louis DeJoy was named postmaster general after spending four decades in the trucking and logistics business, becoming wealthy enough in the process to join the ranks of Republican megadonors. He made his name and his fortune through the creation of a company called New Breed Logistics, which grew to prominence by securing contracts with large corporations such as Boeing as well as the Postal Service.
In 2014 he sold New Breed to the Fortune 500 company XPO Logistics, staying on to run the New Breed operation and serve as a director of XPO until 2018. If we want to get a sense of the management approach DeJoy is bringing to the USPS, we can look at the track record of New Breed and XPO.
As shown in Violation Tracker, XPO and its subsidiaries have racked up a total of $65 million in fines and settlements in more than 70 misconduct cases over the past two decades. Nearly two-thirds of that total comes from wage theft. Last year XPO paid $16.5 million to resolve allegations that for years it misclassified drivers as independent contractors to deny them overtime pay and paid breaks.
This year XPO paid another $5.5 million for wage and hour violations relating to workers at its Last Mile operations. Altogether, XPO and its subsidiaries have had to pay out some $40 million in wage theft lawsuits. Another $3.5 million settlement in a misclassification case brought against an XPO unit and the retailer Macy's is awaiting final court approval.
Another problem area for XPO is employment discrimination. Two of the cases in this category relate to New Breed Logistics. In 2015 a federal appeals court upheld a $1.5 million jury verdict in a sexual harassment and retaliation case originally filed by the Equal Employment Opportunity Commission in 2010. Also in 2015, New Breed had to pay $90,000 to resolve allegations by the Office of Federal Contract Compliance Programs that it engaged in discriminatory practices at a facility in Texas.
XPO has also been called out for workplace safety and health deficiencies. It has been cited more than 20 times by OSHA for serious, willful and repeated violations.
Along with the mistreatment of workers, the rap sheet of XPO and its businesses includes allegations of cheating the federal government. This comes by way of Emery Worldwide, an air freight company that became part of Con-Way Inc., which was purchased by XPO in 2015.
In 2006 Emery paid $10 million to settle a False Claims Act lawsuit brought by the Justice Department concerning the submission of inflated bills to the Postal Service for the handling of Priority Mail at mail processing facilities during a multi-year contract.
Leave it to the Trump Administration to choose someone to head the Postal Service who was associated with a company linked to fraud committed against that same agency.
XPO continues to do business with the Postal Service, and DeJoy has continued to receive income from the company through leasing agreements at buildings he owns. Even if XPO had a spotless record, DeJoy's ongoing dealings with it create a glaring conflict of interest.
DeJoy claims to be retreating, at least through the election, from the measures that threatened to create chaos for mail-in ballots.  Nonetheless, his corporate marauder's approach to the management of the Postal Service still poses a grave threat to the future of a vital American institution.