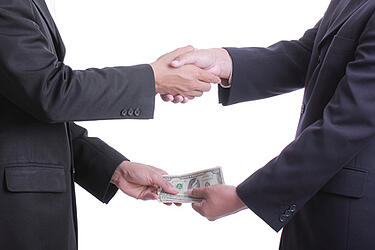 Millions of words have been published about Donald Trump's feud with the Justice Department over the Mueller investigation. Little is being written about another way in which DOJ is thwarting the president's will: the ongoing prosecution of foreign bribery.
Starting before he became a candidate for the White House, Trump has railed against the Foreign Corrupt Practices Act, the 1977 law that allows for both civil and criminal cases to be brought against officials that engage in bribery and related practices committed anywhere in the world as long as their company does business in or has securities trading in the United States. He continued to complain about FCPA's supposed unfairness after taking office.
These complaints seem to have had little effect on DOJ or on the Securities and Exchange Commission, which enforces the civil side of the law. Data collected for Violation Tracker, including a forthcoming update, show that since Trump took office DOJ and SEC have announced more than a dozen case resolutions with total penalties of more than $1.5 billion.
Several of those resolutions have been announced during the past two months. In early July DOJ and SEC each announced cases with combined penalties of $76 million against Credit Suisse and one of its subsidiaries for improperly winning banking business by giving jobs to family members and friends of Chinese government officials. Just the other day, the SEC announced that the French pharmaceutical company Sanofi would pay $25 million to resolve allegations that its subsidiaries in Kazakhstan and the Middle East made corrupt payments to win business.
It is true that many of the cases announced under Trump have involved foreign companies. Others include Japan's Panasonic, Sweden's Telia, and Canada's Kinross Gold. Yet the culprits have also included some U.S.-based companies. Last year, for example, Halliburton had to pay $29 million to resolve allegations relating to its actions in Angola. Earlier this year, Dun & Bradstreet paid $9 million in connection with two of its subsidiaries in China. Most recently, investment manager Legg Mason agreed to pay more than $34 million to settle allegations that one of its subsidiaries was involved in a scheme to bribe officials in Libya.
While DOJ and SEC seem to be carrying out their mission of investigating FCPA violations by a wide range of companies, it remains to be seen whether that includes the Trump Organization, which according to various media reports may have corrupt practices act liability in a variety of countries (see, for example, The New Yorker piece on Azerbaijan).
This may be another test of whether Trump – and his business interests – are exempt from the law, but for now it is good to see that Trump has not succeeded in undermining an important tool in prosecuting other corporate bad actors.