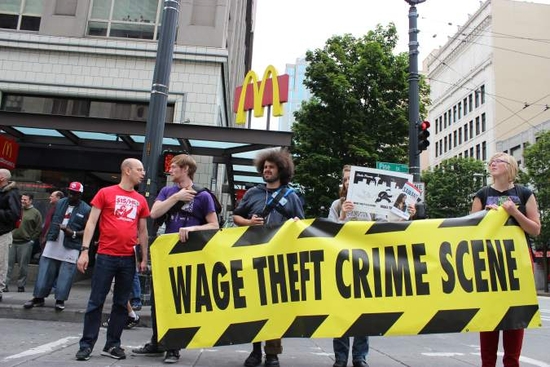 Several weeks ago, in one of his few legislative successes, President Trump signed a bill rescinding the Obama Administration's executive order on Fair Pay and Safe Workplaces. The order, designed to promote better employment practices by companies doing business with the federal government, instructed procurement officials to consider the labor track record of contractors, which were required to disclose their recent violations.
Business groups, which had attacked the order as a form of blacklisting, have gotten their way, but it is still possible for a federal procurement officer to determine whether a bidder is a rogue employer. It's simply a matter of plugging the company's name into Violation Tracker, the free database on corporate crime and misconduct I have assembled with my colleagues at the Corporate Research Project of Good Jobs First.
We've just announced the latest expansion of the database: 34,000 Fair Labor Standards Act cases brought since the beginning of 2010 by the Wage and Hour Division of the U.S. Labor Department. The dataset, covering cases with back pay and penalties of $5,000 or more, represents the recovery of more than $1.2 billion by WHD investigators.
Many of the offending employers are smaller businesses, but wage theft is far from unknown among large corporations. The biggest cumulative amounts collected by the WHD since 2010 came from oilfield services company Halliburton, which in 2015 agreed to an $18 million settlement of alleged overtime violations, and CoreCivic (the new name of private prison operator Corrections Corporation of America), which in 2014 agreed to an $8 million settlement. Also among the top ten are Walt Disney ($4.2 million) and Royal Dutch Shell ($2.6 million).
The wage and hour cases supplement existing Violation Tracker data in two other key areas that had been included in the executive order: workplace safety (OSHA cases) and employment discrimination (cases brought by the Equal Employment Opportunity Commission and the Office of Federal Contract Compliance Programs). We are now in the process of obtaining data on the remaining category — unfair labor practice cases — from the National Labor Relations Board.
DOL administrative actions are not the only game in town when it comes to challenging wage theft, which a 2014 Economic Policy Institute report estimated could be costing U.S. workers as much as $50 billion a year. Some of the biggest recoveries come in lawsuits known as collective actions that are brought in federal court on behalf of groups of workers and often result in multi-million-dollar settlements. Unfortunately, there is no central information source on these settlements. The Corporate Research Project is in the process of piecing together the data from multiple sources and will add it to Violation Tracker later this year.
The issues covered by the Obama executive order are just a portion of what can be found in Violation Tracker. We now have 158,000 cases brought by 42 federal regulatory agencies and all divisions of the Justice Department. The fines and settlement amounts in these cases total more than $320 billion.
Violation Tracker data is now current through late March of this year, but for some agencies there was not a lot of case information to collect for the first two months of the Trump Administration. For example, the Wage and Hour Division, which in recent years usually announced numerous case resolutions each month via press releases, has posted only a handful of such releases since Inauguration Day. There's no indication that the work of the division has stopped, but it appears that the Trump appointees now running the Labor Department are not eager to publicize enforcement activities.