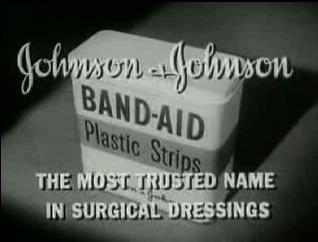 Baby powder, the product along with Band-Aids that for decades gave Johnson & Johnson a benign image, is now the latest symbol of its deterioration into one of the most unreliable of large corporations. Juries have recently awarded a total of $127 million to women with ovarian cancer who charge that their disease was caused by the talc in the company's powder.
J&J, which disputes the allegations and is appealing the verdicts, faces some 1,400 additional similar lawsuits brought by plaintiffs' lawyers armed with company documents they say show that J&J was concerned about a link between talcum powder and ovarian cancer as early as the 1970s. It is unclear what will happen with the litigation, but the lawsuits are part of a long string of scandals that have plagued the giant medical products firm during the past decade and forced it to pay out vast sums in civil settlements and criminal fines.
The most serious of those cases involved allegations that several of its subsidiaries marketed prescription drugs for purposes not approved as safe by the Food and Drug Administration, thus creating potentially life-threatening risks for patients.
In 2010 J&J subsidiaries Ortho-McNeil Pharmaceutical and Ortho-McNeil-Janssen had to pay $81 million to settle charges that they promoted their epilepsy drug Topamax for uses not approved as safe. The following year, J&J subsidiary Scios Inc. had to pay $85 million to settle similar charges relating to its heart failure drug Natrecor.
In 2013 the Justice Department announced that J&J and several of its subsidiaries would pay more than $2.2 billion in criminal fines and civil settlements to resolve allegations that the company had marketed it anti-psychotic medication Risperdal and other drugs for unapproved uses as well as allegations that they had paid kickbacks to physicians and pharmacists to encourage off-label usage. The amount included $485 million in criminal fines and forfeiture and $1.72 billion in civil settlements with both the federal government and 45 states that had also sued the company.
At a press conference announcing the resolution of the case, U.S. Attorney General Eric Holder said the company's practices "recklessly put at risk the health of some of the most vulnerable members of our society — including young children, the elderly and the disabled."
Other J&J problems resulted from faulty production practices. During 2009 and 2010 the company had to announce around a dozen recalls of medications, contact lenses and hip implants. The most serious of these was the massive recall of liquid Tylenol and Motrin for infants and children after batches of the medication were found to be contaminated with metal particles.
The company's handling of the matter was so poor that J&J subsidiary McNeil-PPC became the subject of a criminal investigation and later entered a guilty plea and paid a criminal fine of $20 million and forfeited $5 million.
J&J also faced criminal charges in an investigation of questionable foreign transactions. In 2011 it agreed to pay a $21.4 million criminal penalty as part of a deferred prosecution agreement with the Justice Department resolving allegations of improper payments by J&J subsidiaries to government officials in Greece, Poland and Romania in violation of the Foreign Corrupt Practices Act. The settlement also covered kickbacks paid to the former government of Iraq under the United Nations Oil for Food Program.
All of this has been a humiliating comedown for a company that was once regarded as a model of corporate social responsibility and which set the standard for crisis management in its handling of the 1980s episode in which a madman laced packages of Tylenol with cyanide. While the company was then being victimized, the more recent crises have been largely of its own making.
—————————-
Note: This piece is drawn from my new Corporate Rap Sheet on Johnson & Johnson, which can be found here.